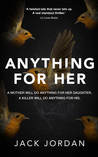 Anything for Her
by
Jack Jordan
My rating:
3 of 5 stars
I received a free digital copy of this book via Netgalley for the purposes of providing a review.
I had a wee bit of trouble getting into this book; there were British terms I hadn't heard before.
By the time the author started revealing what happened That Night, I was more than ready to learn what ridiculous thing Brooke had done to mess up her life. It wasn't what I thought, was much more serious, and in the end, it was Louise's decisions I was disturbed by.
This is one of the few times I wish the book had ended with the climax. There wasn't much point to continuing, and I didn't really learn anything new about any of the characters.
Anything For Her just didn't work for me. It was well-written, though. Your mileage may vary.
View all my reviews